It didn't bother the government before so they are hardly likely to care now! Sadly.
They forget that this was not just about water and compulsory purchases, or destroying a community, but more about the continued abuse of the Welsh people by the English Government, and their continued lack of recognition for the people and its culture.
On a February night 60 years ago, three young men battled through blizzard conditions to plant a bomb at a construction site in a lonely Welsh valley. Their target was a dam being built by an English privatized water company to supply water for Liverpool.
To provide millions of liters a day for the English city, the people in the small Eryri (Snowdonia) village of Capel Celyn were to be evicted and their homes, farms, post office, school, chapel, and cemetery flooded to create a reservoir. The bomb attack by the newly formed Mudiad Amddiffyn Cymru (Movement for the Defence of Wales) on the electricity transformer powering the development on 9 February 1963 was an act born of intense opposition to the village drowning; people boarded buses to Liverpool to march through the streets.
Despite the protests, in October 1965 Alderman Frank Cain, of the Corporation of Liverpool, pulled a lever to sink Capel Celyn forever under tens of millions of liters of water to create the Llyn Celyn reservoir.
Today, as climate breakdown pushes more regions into drought conditions, privatized water companies are again turning to Wales for more water – this time for London and the southeast of England.
Thames Water wants to abstract up to 155m liters of water a day from Wales to boost supplies for the most populous part of England in the coming years. It is working with United Utilities, which has a license to abstract water from Lake Vyrnwy, a reservoir in Powys, and with Severn Trent. But as the graffiti across north Wales in memory of Capel Celyn show, water continues to be an emotive subject in the country.
Politicians in Powys are arming themselves for tough negotiations on access to water in the years ahead. The county council wants the British and Welsh governments to set up the necessary legislative frameworks to enable its communities to get a financial benefit from the use of its water. The council wants a levy raised on water supplies that are not for the direct benefit or consumption of the people of Powys.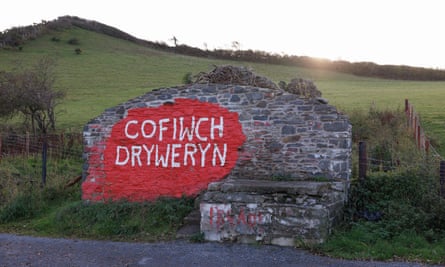 Elwyn Vaughan, a Plaid Cymru councillor on the county council, said there had been Thames Water officials in the Lake Vrynwy area over the past 12 months. "The drought last year seems to have really focused minds," Vaughan said. "But before Thames Water look to our water here, my argument is that they should plug their own leaks first – 600m litres a day – rather than putting all this effort into taking water from here."
Vaughan added: "Water is a very sensitive subject. It is a fallacy to assume that plentiful supplies will be here forever."
The proposal by water companies is for water from Lake Vyrnwy, now abstracted by United Utilities to supply Liverpool and north-west England, to be redeployed to supply London and the south-east. Water from the reservoir would be released into the River Vyrnwy and on into the River Severn, where it would be abstracted near Gloucester before being taken to the southeast of England via a new pipeline or restored Cotswold canals.
Environmental concerns focus on releasing huge volumes of water into the River Vrynwy and Severn, and the impact on other Welsh rivers of replacing the water being taken for the southeast.
Ceri Davies, of Natural Resources Wales, said: "This release to the Vyrnwy would need to be carefully controlled to balance other vital requirements such as managing flood risk and ecological impact. We will need to be satisfied that the proposals would not have a detrimental impact on communities and wildlife in Wales before agreeing to them."
Gail Davies-Walsh, the chief executive of Afonydd Cymru (the Welsh Rivers Trust), echoed the concerns, saying the Severn was a special area of conservation, so it was important that extra flow into it did not have negative impacts.
There are also fears that the knock-on impact of diverting water from Wales to the southeast of England will damage other Welsh rivers. Peter Powell, the chief executive of the Welsh Dee Trust, said: "If they are going to start using Lake Vyrnwy to provide water for England, they will have to take more water from the River Dee for Liverpool and the north-west.
The Dee is already struggling from over-abstraction and this will put huge additional pressure on it.
"The rivers of Wales are all over abstracted and have their own challenges. This plan will take more water from Wales to feed the economic growth of the south-east of England."
Capel Celyn is an intense memory in Wales, rarely more so than last summer when the whole country was plunged into drought and water levels in Llyn Celyn were so low that the ghostly remains of the village chapel could be seen emerging from the reservoir floor.
Jane Dodds, the leader of the Welsh Liberal Democrats, said there was a long history in Wales of its raw resources being taken for use in England while local people experienced no benefit, with the drowning of Capel Celyn being one of the most notable examples. "These latest plans by United Utilities, Severn Trent, and Thames Water risk repeating the mistakes of the past," Dodds said.
For Elwyn Edwards, who was 13 when his relatives were evicted from Capel Celyn, the issue is simple: "I went to Liverpool to protest. Two busloads of us went from here but nothing came of it. They went ahead anyway and we did not get a penny. So I don't mind them taking the water as long as they pay for it, every ounce."
Thames Water said: "The past summer, with extreme heat and lack of water, is a clear indication of climate emergency first-hand. There are no simple quick solutions and we need to plan ahead to manage a growing population, a changing climate, and an increasing drought risk as well as make sure we can protect our environment now and in the future.
"The redeployment of water currently used by United Utilities from Lake Vyrnwy in Wales is one of a number of … options being considered. There are no plans to take any additional water from Lake Vyrnwy beyond what is currently permitted to be abstracted by United Utilities under their existing abstraction license."
From....https://www.theguardian.com/uk-news/2023/mar/18/very-sensitive-subject-plan-to-take-welsh-water-for-london-stirs-painful-memories